APSA AGM & Conference 2022
BSM Global were proud to be the major sponsor supporting the Australian Peak Shippers Association (APSA) Annual General Meeting (AGM) and Conference taking its AGM and Conference to Wagga Wagga, NSW on Tuesday 30 and Wednesday 31 August 2022.
It was significant to note that the majority of delegates travelled from outside of Wagga Wagga, selling out available hotel accommodation and helping stimulate businesses in the region.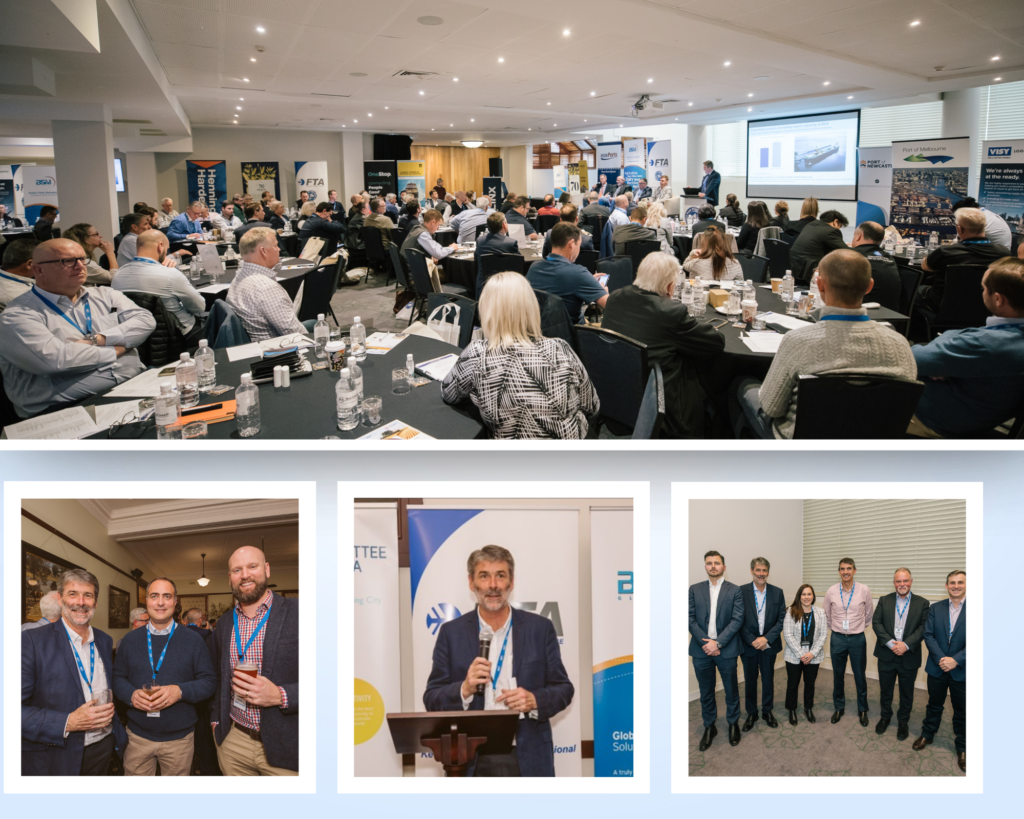 With the support of sponsors City of Wagga Wagga, Regional Development Australia and Visy Logistics delegates also realised the enormous potential of establishing business centres and logistics operations in the region.
Please refer to the following presentations:
RIFL site tour photos available HERE
APSA ANNUAL GENERAL MEETING
The 32nd APSA AGM set the policy direction for the year ahead focussed on the need for a review of shipping competition, minimum service levels and notification periods, infrastructure investment, regulation of Terminal Access Charges, regulation of container detention practices (import and export), waterfront industrial relations reform and implementation of Biosecurity reform priorities.
Members were also privileged to have Cameron McKean (Executive Director) and Dylan Richards (Assistant Director | Competition Enforcement and Commercial Construction | Competition Division) from the Australian Competition and Consumer Commission (ACCC) lead a general discussion on compliance activity focussing on cartel and exclusive dealing provisions in the international shipping supply chain sector.
ELECTION OF APSA BOARD
Importantly, the AGM and post event nominations has seen the election of a new board with Brian Thorpe (pictured) stepping up in the vacant Vice Chair role, Michael Lamperd returning to the committee and the board welcoming Sarah Granger (also pictured below at the Welcome Function).
Committee of Management
Chair: Olga Harriton (Global Logistics Manager – Manildra Group);
Vice-Chair: Brian Thorpe (International Shipping Manager – Visy Procurement);
Treasurer: Flaminio Dondina (General Manager Procurement – Casella Family Brands);
Billy Davies (Market Access Officer – Australian Meat Industry Council);
Sarah Granger (Transport & Logistics Manager – Fletcher International Exports);
Michael Lamperd (Logistics and Warehousing Manager – Norco Co-operative Limited);
Peter Morgan (CEO – Australian Council for Wool Exporters and Processors);
Brian Wright (Australian International Movers Association); and
Secretariat: Paul Zalai (Director – Freight & Trade Alliance – FTA)
APSA Conference
Following a 'Welcome to Country' from Aunty Cheryl Penrith, official opening from APSA Chair Olga Harriton and the regional Federal member address from the Hon. Michael McCormack, the day consisted of a series of panel-style delivery allowing interaction with delates.
Overwhelmingly positive feedback was received on the quality and format of presentations focussed on Infrastructure (session sponsor Port of Melbourne), Ports & Shipping (sponsored by NSW Ports), Regulatory Reform (session sponsor Port of Newcastle) and Innovation (session sponsor Department of Agriculture, Fisheries and Forestry).
Program available HERE
GOLD SPONSORS:
Manildra Group, Certis Security, Containerchain, Transport for NSW, OneStop
SILVER SPONSORS:
TT Club, Linx, Mediterranean Shipping Company, TradeWindow, SCT Logistics
BRONZE SPONSORS:
Henning Harders, Compliant Business Processing, Ron Crouch Transport
Session 1 panellists and delegates – photos available HERE
Session 2 panellists and delegates – photos available HERE
Session 3 panellists and delegates – photos available HERE
Session 4 panellists and delegates – photos available HERE
Channel 7 – reporter Jessica McLaughlin – view HERE
7.20 on ABC Riverina Thursday Mick Keogh ACCC – recording HERE (at 46 min:42 sec)
ABC Country Hour Thursday – recording HERE (at 7 min:35 sec)
ABC News interview with Paul Zalai – FTA/APSA – recording HERE (at 2 min: 40 sec)
WinNews – interviewing APSA Chair Olga Harriton (pictured) – view HERE
Huge thank you to Paul Zalai – Director FTA | Secretariat APSA | Director GSF for a hosting a magnificent event.
Pre-recorded address by Senator the Hon Don Farrell Minister for Trade & Tourism – view HERE