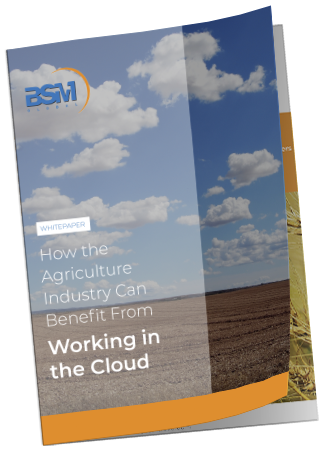 How the Agriculture Industry Can Benefit From Working in the Cloud
Working in the cloud allows supply chain managers to identify potential obstacles and proactively take the necessary steps to prevent any deviation from standard operating procedures, minimising loss and mitigating risk.
SCALABLE
Cloud computing provides convenient, easily scalable solutions to business. It opens organizations to the latest global opportunities and trends in application architectures whilst removing onsite servers and the associated headaches and expense.
COLLABORATION & MOBILITY
Teams can securely access their data and files from anywhere at any time  and on any device — as long as they good, secure internet connection. The cloud has unwired the world. In a post COVID world this is critical.
ANALYTICS & BACKUP
Another benefit accessed via cloud computing is the ability to use big data analytics and backup services. This allows companies to securely store, access and tap into vast quantities of both structured and unstructured data to extract business value. Some traders are now extracting information derived from supply chain data to identify vendor and buyer patterns to better support their trade, costs and allocations for up and coming seasons.
How the Agriculture Industry Can Benefit From Working in the Cloud
Download a copy of the whitepaper here: